The Sacred Sisterhood: Mystical & Spiritual Gatherings
 for Women
(Click Here to Reserve Your Spot)

 

 
Sister,
The universal energies are high – we are being called to awaken to our soul's journey and deepen into the truth of our hearts.  Living in the mundane is no longer going to cut it and you can feel this truth deep in your bones.
It is time to wake up, it is time for your spiritual evolution.  
Join me in circle with other like minded women to open to your mystical capacity and learn to ground and fine tune your energy.  Together we will deep dive into the sub-conscious and clear out the cobwebs so that collectively we can begin to rise again in our power, beauty and grace.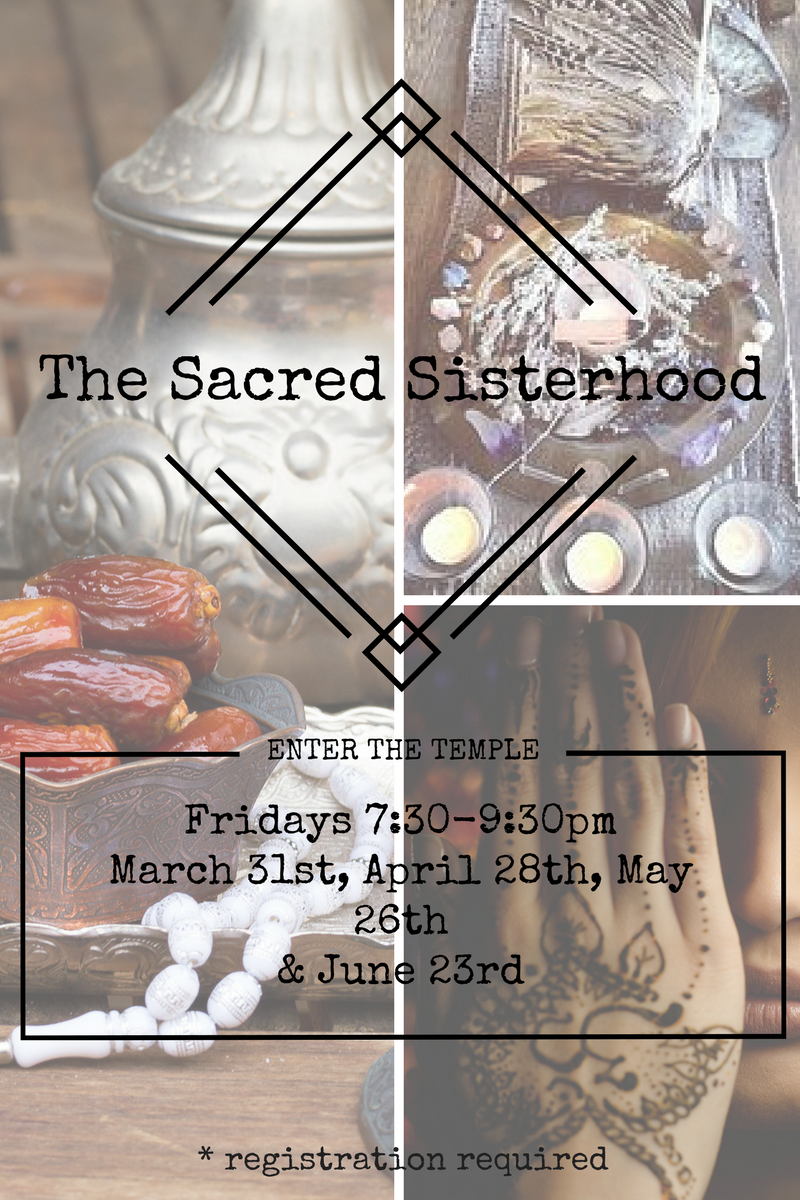 If you feel the pull to live your life with more meaning, consciousness and authenticity and to surround yourself with other women who also desire these experiences, then I invite you to join us in the Sacred Sisterhood.
Once a month we gather to explore mystical aspects of ourselves, to share our experiences with one another, to laugh, to cry, to expand our awareness of who we are and how we show up in our lives. 
Dates: (Fridays) March 31st, April 28th, May 26th & June 23rd
Time: Doors open at 7:15; Circle: 7:30-9:30pm
Location: Ottawa, Centretown (the address will be emailed to you prior to event)
Investment: $35 per circle
Click Here to Reserve Your Spot
_________________________________________________________________
Praise and Love for Maria and Briana Lucila:
"[Maria and Briana (Lucila al Mar) are] such empowering and inspiring women, each with their own unique ability to connect with and inspire people.  They are strong and soulful leaders who lead by example.  I learned a lot from each of them about the importance of developing a strong mind-body connection and the role of this connection in creating an authentic life.  Each of these women have cultivated and are living authentic lives and are well positioned to share their experiences – I can't think of a better match to explore and guide others through the challenging and rewarding process of creating a sacred life!"  ~ Michelle Turner, Ottawa ON
"Maria and Briana are two wonderful women. Artists, teachers and healers in heart and mind. I have never doubted that they bring everything they've got into what they do, in a truly authentic and open way, always giving their best." ~ Anna Nyiri, Ottawa ON
 "Maria used her beautiful energy and intuition to help me see a clear way to making a very important life altering decision.  I've never looked back. Maria gave me the guidance and support I needed to move through some blocks, embrace my personal power and move forward with my life." ~ Diane Perehudoff, Nelson BC
 "I was in an unknown space within myself and was desperately needing some clarity and guidance from an outside source…someone that wasn't a part of my inner circle that could give me their unbiased opinion as well as tools I could use that would help me get to a clearer, happier place. The minute Maria spoke I instantly felt at ease! She has this way of making me feel like I am talking to my best-friend that has the best advice ever and she asks the perfect questions to help you see the light of your own path! She has endless compassion, is such a great listener and doesn't have an ounce of judgment within her…" ~ Rayna Aldridge, Victoria BC
"Maria is one of the most warm and nurturing women I know.  Earlier this year I was panicking about when I was going to have kids.  A huge planner and wanting to be overly prepared for everything, I was feeling stressed, overwhelmed and unclear on how I was going to do it all – be a career woman, a good wife and a mom all at once!  Maria uncovered some crazy beliefs I was not aware of that were keeping me stuck, did some amazing energy work with me and gave me concrete action steps to do going forward." ~ Sarah Jenks, SanFrancisco CA, www.sarahjenks.com